Read First!
1.Declaration of Marriage Status
2.Do It Yourself Marriage Counseling
3. Who Are You?
4. Who Are You Accountable To?
Healing and Well Being
1. You Can Restore Your Marriage
2. A New Person In Christ
3. Jump Start Your Mind With Affirmations
4. Having The Right Attitude
Ebook - Living up to Your Full Potential
Ebook - Living up to Your Full PotentialHaving The Right Attitude
Ebook - Living up to Your Full Potential
Godly Foundation
1. Making Your Marriage Work!
2. Instruction Manual For Marriage
3. Five Ways To A Great Marriage
4. Marriage, Divorce, and Remarriage
Ebook - How To Be Free and Achieve True Marital Happiness
Spiritual Headship
1. Understanding Spiritual Headship
2. How To Influence Your Wife Spiritually
3. I want to Lead, But My Wife Is Doing It
4. Show Your Wife You Love Her
5. Christian Roles for Marriage
Learning Forgiveness
1. Forgive Your Wife
2. Have You Really Forgiven?
3. The Key Is Forgiveness and Acceptance
4. My Wife Won't Forgive Me of Adultery
Forgiveness Ebook - Forgiveness in Marriage

Adultery Ebook - How to Forgive an Unfaithful Spouse
Principled Acts of Love
1. Principled Acts of Love
2. What Love Means To You
3. How To Stop Divorce and Recommit
4. Are You Unhappy In Marriage?
Pray For Your Wife
1. What is Important For My Marriage?
2. My Spouse Wants a Divorce
3. Married to an Unbeliever
4. Treat Your Wife With Respect
Bonus Article - How Should We Pray?
Communication and Self Expression
1. How To Communicate Productively
2. Healthy Marriage = Team Effort
Intimacy and Sex
1. Love, Sex, and Intimacy
2. Get Intimate!
3. Bring Intimacy Back Into Your Marriage
4. Sexually Satisfied Marriage

Stuff For Couples
1. Pocket Those Negative Feelings
2. Spiritual Growth With Your Wife
3. How A Husband Should Love His Wife
4. Six Weeks of Pleasure...
Healing From Unfaithfulness
1. Take Responsibility For Your Actions
2. The Unfaithful Husband Seeking Forgiveness
3. Heal and Restore Your Marriage After Adultery
4. Why Does Jealousy Hurt So Bad?
5. Broken Promises, Lies, and Infidelity
6. Is Flirting and Looking The Same As Cheating?
*****
Adultery Pandemic: Recovery From Adultery

A treasure book filled with effective guidance for your marriage from forgiveness and trust to recommitting your lives to each other again. Practical and easy-to-read, this book combines the solutions and remedies your marriage needs towards recovery from adultery. Ebook $7.95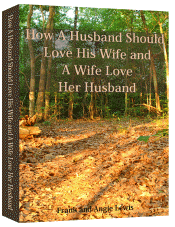 There are two ways a man can love his wife. He can love her under his own understanding of what he thinks love is, or he can love her in the ways God has taught him to love her. The first way of loving is a condition and learned way to love, which is selfish and self-seeking. Some examples of how we love our spouse selfishly is through adultery, disrespect, controlling and demanding behavior, rebelliousness, using our emotions in negative ways and becoming ensnared in lust addictions. We have separated ourselves from THE Source of where true love is!

In Society we have been taught to love with dissimulation, which is a greedy and lustful kind of love. This is why we think we aren't in love with our wives any more. (Romans 12:9)

But this is not what Jesus taught. Love Must Be Without Dissimulation. Many couples think they have fallen out of love with their spouse. This causes insincerity and dissimulation in their behaviors, such as adultery and lust addictions because when they believe something to be true in their mind their actions soon follow their thinking. The fact is they have not fallen out of love with their spouse, they were never in love to begin with! Love is not that superficial. Love is not something that is or it isn't and that's because love is a choice and love is an action. You make love happen by what you do! Find out more about "how to love your wife" here.

Common Marriage Issues That Are Detrimental To Marriage
and What you can do.

Don't Control - Demand - Manipulate

Why would you feel the need to control, and or otherwise manipulate your wife? Something is amiss when a husband has to abuse his wife to get his way. Go back to the personal healing articles and read through them. Study the scriptures references in those articles. Be the godly and loving man that God created you to be FIRST...and then you will not feel self-doubting about who you are and then you can not be so worried about what your wife is or is not doing. Any man who has to control his wife to get his way is not praying for his marriage. Understand that when you control, demand, or manipulate to get your way, it will actually push her further away from you. If you want your marriage restored, you need to take responsibility for your actions!

What actions can you use instead of control, demand, and manipulate? How about this:

Control - change this action to powerless (powerless to control another)
Demand - change this action to to influence (influence with your loving actions not demanding actions)
Manipulate - change this action to "love by principle" (God's principles do not manipulate but emit love)

Spiritual Headship

God made man to be the spiritual leader over his family. This standard has not changed 2000 years later. The most important aspect of a mans responsibility to his wife and family is to "be the man of the house" by taking the lead in a loving and gentle way. Guide your family in the Word of God. Discipline your children in the ways of the Lord and Love your wife as Christ loves His TRUE church - His people. If you are having a difficult time guiding your home spiritually, maybe you are just trying too hard. Go back to the written materials and study them. Pray that God give you the guidance you need to be the loving spiritual leader of your home. Sometimes when we try too hard or when we need everything to be perfect, it becomes too stressful. Take a breather, give it to God - pray about it, and God WILL give you the clear guidance you need.

Prayer

I can not underestimate the value of prayer. Praying with the woman you married brings you together in thoughts, ideas, and spirituality. Not only does it give you the spiritual connection that you need to be at peace with God but it builds up your faith in Him in every way! Pick a time each evening before dinner or at bedtime to spend thirty minutes in peaceful oneness and solitude with the woman you married. Use fifteen minutes of that time reading from the bible or praying together. spend the rest of that time expressing yourself to your wife. Tell her how your day went - tell her how much you appreciate her - talk to her, be open and honest because that is what will help to bring you closer together. She wants to be there for you. Let her do her job as your wife.

Principled actions of love vs. feelings of love

What is the difference. Well, lets say you had a bad day at work and you come home hungry, tired, and cranky, and you find your wife watching TV and there is nothing to eat. What are you going to do? How will you react? Let's say you want to make love to your wife but she keeps rejecting you night after night. What are you going to do? How will you react? both of these issues as well as numerous others takes wisdom and careful consideration on how to deal with them. It is certainly not right what the wife is doing or not doing in the above scenarios, but why is she not cooking her husband a meal and why is she rejecting her husband sexually? She needs inner healing - you need inner healing, but this is about you now, so let's focus on your part in the marriage. ok? Instead of getting angry with her or sulking in silence, communicate with her and tell her "how you feel." Talking works wonders in marriage. We need to take responsibility for our own actions, not someone esle's.

Forgiveness

Forgiveness is a MUST for a healthy marriage. Marriage cannot be re-establish until you forgive. You can not heal the demons within until you forgive. Let go of the resentment and forgive! forgiveness is for your own healing, because it is only after you forgive that you can love properly. We do not have the power to forgive on our own, it is something supernatural and comes from God. If you are having a difficult time forgiving your wife, you must ask God to help you. Pray every day that God give you the strength to give up your resentment and forgive so you too may be forgiven. Read the Forgiveness in Marriage ebook. Read through some of the articles on forgiveness and answer the questions at the bottom. You Can Forgive!

Respect and Appreciation

You need to humbly pray about this and ask God to help you with this. Respect can be a difficult thing to do, especially if we are not being respected by our wife in our home. But be the one to GIVE IN FOR THE SAKE OF THE MARRIAGE. Base your marriage upon the principle of respect. If the man of the house would first be loving and respectful, even if his wife is naggy and disrespectful sometimes, it will get the woman of the house to recognize her wrong actions. Talk to your wife and let her know, you want to and will do your best to respect her, and would like to be respected in return. Learn good principled habits for your marriage and God will help you... if you keep Him at the forefront of your marriage.

"The most beneficial way to handle marital issues is from the foundation of the Creator of marriage. No one cares more about your marriage than God. Ask God – He will provide".
Priority List For Marriage
Who Are You Accountable To?
Husband's Priority List

God – Jesus Christ

Wife (Accountability, Responsibility)

Children (Responsibility)

Ministry (Helping others)

Self (career, job, hobbies)

Wife's Priority List

God – Jesus Christ

Husband (Accountability, Responsibility)

Children (Responsibility)

Ministry (Helping others)

Self (career, job, hobbies)
This book is written for the Christian husband who desires to know the proper ways of loving his wife the way God intended, so she will want to submit to his unwavering love for her.
Lewis tackles every subject in this fascinating God-help (notice I didn't say self-help) book: Love, sex, romance, expression, attitude, wisdom, communication, forgiveness, and respect. Her writing is accurate and concise because she has been down in the valley and, in my personal opinion, she has reached the mountaintop of understanding how to have a successful and happy marriage. --- Review by