Dear Friends,

My book is now available for purchasing. Not only is this book a spiritual eye opener, but it will tell you a little bit about me, and my past conflict dealing with alcoholism and that bad emotion, we call resentment. In my book I show you how I conquered these things for myself, and in my marriage.

New Release! Journey on the Roads Less Traveled ~ by Angie Lewis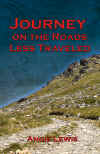 Available at Publish America, http://publishamerica.com/books/10446/ at a special pre-release discount price of $14.95, and at any online bookstore using the ISBN number 1413788904.
To find out more information about me, the author, and this unique new book, please visit my other website at: http://www.spiritual.journeybooks.4t.com/
******
Journey on the Roads Less Traveled is a very emotional book, well for me it was! This book wow I couldn't stop reading, some may say this book is a total reality check? Makes you stop and think, *Wow this is me, did she write about me, is she trying to tell me something?* A real eye-opener!! I highly recommend this book!
Betty Woodrum
Msn Group reviewer
"What we think in the heart, comes out in our actions"
Why do we need to understand our emotions? Because emotions play a big part in our life. Emotions have a way of telling us what to do with our marriage, family, job, career, self, and how we love others. If we cannot control the course that our emotions run, we might be heading down the road towards destruction. We don't want our emotions to direct our marriage do we?
When was the last time you got angry? what do you do when your spouse treats you with disrespect? What do you do when your children continue to misbehave? What happens if your emotions tell you that you don't love your spouse anymore? What are you going to do? Do you let jealousy and resentment to tell you what to do in certain circumstances?
Before we can understand the full potential of our self and our emotions We need to understand a little bit about who we are, and why we do the things we do. How do we handle our selves with particular circumstances? What do we do when conflict rears its ugly head in our marriage? We get emotional, right?! But is that alright to do? Are we letting our emotions rule our marriage, our self, our life?
Some of us are more emotional than others. We are more sensitive to our surroundings, people, and what those people think of us. This is one of the major reasons we should not let our emotions control us. We have a hard time giving things over to God, even though it is what He instructs us to do. Why do you think that is? Why does God not want us to live the way we want? Because we are imperfect here on earth. Meaning, we do imperfect things. We error, we sin, we become angry, we disrespect the ones we love the most, we lie, some of us cheat, steal, and then some of us do really bad things, all because we are imperfect people.
God wants us to give to Him our imperfections and He will make things right in His way. If we could seriously do this, then our imperfections would be obliterated from our lives. Well, at least not be so apparent.
The problem is, some days we just feel like crap (pardon the slang). We feel so much like crap that everyone around us gets treated like how we feel because our emotions tell us to treat others with crap! You see how that works? I feel like crap, so I treat others with crap. What's happening is, we are letting our emotions control the person God intended us to be. It's really that simple. The hard part is doing something about it.
But we can do something about it, so lets get started and get off this emotional roller coaster ride!
~How to learn to love self and break free from the selfish aspect of who we are.
To love means to give. That means to love yourself, you must give to yourself. Well, how do you do that? By freeing your self of unwanted emotions and negativity that upsets the apple cart in your life. Emotions have a way of feeding the soul. We live on these negative emotional imbalances in life, and they tell us how to behave and act towards others and even our self. That's why we get angry and disrespectful, maybe even violent towards our spouse. We are filled up with negative emotions.
If we truly loved our self we wouldn't carry around these bad feelings towards others. We would know that God loves us so much that He wants us to ask Him to take away these feelings of bitterness, open our hearts, so we can love ourselves.
Why do you think we behave selfishly? Selfishness stems from neediness. We are needy because our emotions are not fixing the problems in our life and marriage. Anger, bitterness, resentment, disrespect, pride selfishness, rebelliousness, these things do not fix our marriage, family, or how we feel inside. These emotions literally control the aspects of our character. They control how we live and what we do. They might even tell us that it is okay to have affairs, to steal, cheat, lie, do drugs, or treat our spouse with disrespect and contempt. But that is not who we really are? God did not make us like that when He created us.
We can break free from our heavy laden emotions by trusting in God and believing that what God says is Truth. God wants what is best for us and our marriage and family. If our emotions take over in our life, we need to make some changes. Those changes involve asking God to help us sort it all out.
A person's character is made up of many things that bring out their personality and ego, and different traits that make them the special and unique creation of God that they are.

Ask yourself this? Are you utilizing the spiritual aspect of your character by trusting in God, by believing that what He says is truth, and by giving your negative feelings over to Him? Remember, we are imperfect individuals, it is through God and the Spirit of Christ that completes the true person we are. God is your source of existence! So why are you existing on what the world says as truth? The world did not make you, but it sure tries hard to condition you to think the way it does.
The culture of society likes to justify and rationalize why they do things that are contrary to God's design, but all that does is take the world further away from God through faulty thinking.
I do know this, right action leads to right feelings! So then maybe we need to act first then feel. What do you think?
Romans 12:19-21 says, Dearly beloved avenge not yourselves, but rather give place unto wrath: For it is written, Vengeance is mine; I will repay, saith the Lord. Therefore, if thine enemy hunger, feed him, if he thirst, give him drink: for in so doing thou shall heap coals of fire upon his head.

Be not overcome of evil, but overcome evil with good.
Dear Children, let us not love with words or tongue but with actions and in truth. 1 John 3:18
***********
~How to discover the spiritual aspect of our character. (grow out from self, and more into the loving nature of God)
If you were to describe yourself to someone, what would you say?
Most of us forget that we have a spiritual aspect interwoven within our character. Probably because some of us don't know how to use the power of the Spirit within us for the good of ourselves and others. Error in thinking takes us further away from God. But Jesus Christ says, he has given us of His Spirit. Jesus left us in the physical, and that is why He left us with His Spirit of Truth, Love, and Wisdom. Do you utilize the spiritual aspects of who you are when dealing with everyday situations and circumstances in your life?
What keeps us faithful, and our eyes always on God is knowing that we are a part of Jesus right here on earth. right here in our heart, mind, and soul! We are a part of God's family. We have the potential within us to grow and learn spiritually with God. When we realize this potential for us, is when we can start applying God's spiritual tools into our marriage, career, job, family, children, and whatever else we do in life.
So what if you can't SEE God. You don't need to see Him in order to love Him and have a personal relationship with Him. Those who believe in Christ's death and resurrection and put their faith in Him will know all they need to know to be saved, because God has revealed it to them by His Spirit -- the Holy Spirit within us.
God has revealed it to us by His Spirit. The Spirit searches all things, even the deep things of God. For who among men knows the thoughts of a man except the man's spirit within him. In the same way, no one knows the thoughts of God except the Spirit of God. This is what we speak, not in words taught us by human wisdom but in words taught by the Spirit of God. The man without the Spirit does not accept the things that come from the Spirit of God, for they are foolishness to him, and he cannot understand them, because they are spiritually discerned.
1 Corinthians 2:10-14
Remember right actions lead to right feelings!

So I say, live by the Spirit, and you will not gratify the desires of the sinful nature. For the sinful nature desires what is contrary to the Spirit, and the Spirit what is contrary to the sinful nature. They are in conflict with each other, so that you do not do what you want. But if you are led by the Spirit; you are not under the law.
The acts of the sinful nature are obvious: sexual immorality, impurity and debauchery; idolatry and witchcraft; hatred, discord, jealousy, fits of rage, selfish ambition, dissensions, factions, and envy; drunkenness, orgies, and the like. I warn you, as I did before that those who live like this will not inherit the Kingdom of God.
But the fruit of the Spirit is love, joy, peace, patience, kindness, goodness, faithfulness, gentleness and self control. Against such things there is no law. Galatians 5:16-22
~How to be more giving, loving, and caring towards spouse by understanding God's purpose for marriage
I'm going to tell you what my purpose is for marriage, and that way you can get an idea of what you think your purpose might be.
My purpose for marriage is to be the wife that God intended me to be. This is not doing things only for myself such as boosting my own career for my selfish ambition, and then come home late, and hand my hubby a cold and tasteless TV dinner. I'm not saying a wife shouldn't work. On the contrary, many homes feel they need the added income to be able to keep up financially. What I am saying, though, is, if the wife doesn't have to work out of the home, then she should not work out of the home. There are reason for this, which is another newsletter, and were not going to get into that right now. Any woman who stays home and takes care of her children is greatly blessed indeed. The whole family flourishes when a woman is home to tend to the families needs. In my book, it is a greater challenge to be a stay at home mom then any other out there. I greatly admire all stay-at-home wives and mothers!! But I also admire those women who have to work out of the home, but can still maintain a godly, and peaceful home front. This takes a lot of work and special managing to preserve.
I believe, that most men, if asked, "would they prefer their wife to stay home or work", 80% of them would say, stay home! What man wouldn't want to eat a nutritious home-cooked meal over a frozen TV dinner? Most women after working all day, either cook something quickly that has no nutritious value, or they complain because they have to cook. Frankly folks, men don't want to hear nagging and complaining after working all day, would you? Men need to come home to a calm, smiling, and content filled wife who hasn't been frazzled all day long by jealous co-workers, and lust filled bosses. You get my point.
God's will tells me to be spiritually submissive to my husband, even when I don't want to. My own selfish nature sometimes tells me to do the opposite because I am only human. But what do I do? I listen to God. I want to please God, and my husband. If I don't listen to God, I am not heeding the spiritual aspect of my nature. When I listen to God, I am freer in my mental and emotional makeup - I am more content and fulfilled as a wife. When I am disagreeable, I become bitter, angry and resentful. Those feelings will kill me.
My purpose as a wife is to be a helpmate to my husband. I help him by helping myself first. If I am feeling emotionally down and or resentful, I can't be a very good helper to my husband, now can I? A husband and wife are a team, and that team works better TOGETHER, rather than apart by rounding out any imbalances one of them may have or feel at any given time. We help our husbands by understanding that our marriage is a union of two people sharing in whatever life brings them, TOGETHER!
My purpose as a wife is to respect who my husband is, faults and all. Because guess what, I have faults too! I certainly wouldn't want him browbeating me over my faults, errs and weakness' every chance he got, so why would I treat him with that kind of disrespect? Accept who your spouse is, and get on with your marriage.
My purpose for marriage is for me to be respectful of my husbands feelings by considering his thoughts too, not just my own. If I were single then I would only think about what I want, but I am married, and my purpose for marriage is to be giving, loving, caring, and respectful of my husband, even, when I don't feel like it.
But what if I don't feel like being nice and respectful? What if my emotions tell me not to admire and love my husband because I am mad at him? I should remember that it is what GOD WANTS, and I should ask God to guide me spiritually in my marriage, under His flawless foundation, not my own selfish and self centered foundation. There is a big difference here. That difference can mean staying married, and being happy, or getting divorced and struggling in the next relationship, and the next, and the next,...'
Remember, emotions can setup target practice in our head and then tell our heart what to think and do. This is why it is so very important to always keep a faithful eye on God, and to utilize the power of the Spirit into our lives, so we don't have to feel we are all alone to deal with our feelings.
The bottom line is, because we are imperfect individuals, if we decide to let our feelings rule over our marriage, I don't think we're going to be married for very long, or either we will live in a very unpleasant marriage.
What does God say about feelings?
In anger do not sin. Do not let the sun go down while you are still angry, and do not give the devil a foothold. Ephesians 4:26
Do not let any unwholesome talk come out of your mouths., but only what is helpful for building others up according to their needs, that it may benefit those who listen. And do not grieve the Holy Spirit of God with whom you were sealed for the day of redemption. Get rid of all bitterness, rage, and anger, brawling, and slander, along with every form of malice. Be kind and compassionate towards one another, forgiving each other, just as Christ God forgave you. Ephesians 4: 29-32
Wives, submit to your husbands as to the Lord. For the husband is the head of the wife as Christ is the head of the church, his body, of which he is Savior. Ephesians 5:22-23
Husband's Love your wives, just as Christ loved the church and gave himself up for her. Ephesians 5:25
~How to love my neighbors--detach and accept others for who they are.
We love others by accepting them for who they are. People really enjoy judging others, and it is so wrong. This, I believe is one of the reasons people have their defenses up ready to attack at any given moment, because they are getting attacked. They hide the person they are, afraid they will not be accepted for the person they are, for what they believe, think and feel. Accepting that which we cannot change is a way of detaching. We cannot change others so what are we going to do? Become frustrated and angry over it? No, we can let it go, and give it to God. God is the only judge because He is the only one who knows the heart of another.
We love our neighbors by not judging our neighbors. We love our neighbors by treating them with the same respect we would like to be treated in kind. If we can't say anything good, then we shouldn't say anything at all.
If you really keep the royal law found in Scripture, "Love your neighbor as yourself", you are doing right. James 2:8
The royal law is the law of our great King, Jesus Christ, who said, "Love each other as I have loved you." (John 15:12) This law originally summarized in Leviticus 19:18, is the basis for all the laws of how people should relate to one another. Jesus reinforced this truth in Matthew 22:37-40 and Paul taught it in Romans 13:8 and Galatians 5:14
~How to forgive completely, and become the complete and whole person God intended you to be.
Why is forgiving so hard? We can't forgive completely because we have not forgotten. We do not forget because we don't know how to let the hurt go from our heart and mind. It's like the hurt is stuck there, even though we forgive over and over again. And this is precisely why God says we are to forgive seventy times seven. We will always have to forgive someone for something, its the way of life.
But if we are unable to forgive our spouse, what do you think will happen? A lot will happen, especially if we harbor resentment and bitterness of heart to our spouse that we cannot seem to forgive.
True forgiveness comes from spiritual wellness. We cannot truly forgive if we are not spiritually healthy in our minds. Many reasons interfere with the act of forgiving properly. One of those reasons is stubbornness. Not wanting to forgive from the heart keeps us in our feelings of resentment towards the person who hurt us. Don't think in your heart how you will get revenge, or how you will get them back! This error in thinking only keeps us in our negative emotions.
Do not say. "I'll pay you back for this wrong!" Wait for the Lord, and He will deliver you. Proverbs 20:22
Another way we do not forgive others completely stems from the way we think, again. Many people live in the "vanity of their thinking" meaning their natural tendency has human beings is to think away from God instead of towards Him. Intellectual pride, rationalizations, and excuses of all kinds keep people from God. so you can see how the way we think can actually steer us in the wrong direction, away from God, away from love, and away from forgiving others.
This I say therefore, and testify in the Lord, that ye hence forth walk not as other gentiles walk, in the vanity of their mind. Having the understanding darkened, being alienated from the life of God through the ignorance that is in them, because of the blindness of their heart. . Ephesians 4:17-18
~~~~~~~~~~~~~
Joanne Lowe's Monthly Devotion
WHAT DO YOU SEE
"But be ye doers of the word, and not hearers only, deceiving your own selves. For if any be a hearer of the word, and not a doer, he is like unto a man beholding his natural face in a glass: for he beholdeth himself, and goeth his way, and straightway forgetteth what manner of man he was." James 1: 22-24
King James Version
When I went through all those years of depression, I belonged to support groups. They would tell us to look in the mirror and say, "I love you. You are worthwhile". I tried doing it a couple of times, but it depressed me even more because I did not like the person I saw in the mirror. Today, I can look in the mirror and smile at myself with joy and happiness because I know that Jesus Loves me and my heart is right with Him.
How about you? When you look in the mirror, what do you see? Do you see a person with joy and smiles, or do you see a person with frowns and despair? I could not change my heart no matter how hard I tried to please my family and friends. It took the Love of Jesus to change my heart. I was full of bitterness, hatred, and resentment.
You may put on a good act for your family and friends, but Jesus knows what is in your heart. We can fool everyone else, but we can not hide from Jesus. If you canít look in the mirror with a smile and joy in your eyes, I suggest you ask Jesus to change your heart.
Joanne Lowe
August 28, 2005
---
To unsubscribe from this newsletter click here
Send this newsletter to a friend. click here
Copyright 2005 Heaven Ministries--
Comments about this newsletter Angie Lewis