Adultery Pandemic ~ Healing the Wounds Brought on by Adultery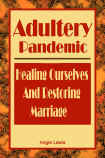 Turn Your Marriage Into A Success! If you want to restore your marriage from the demoralizing effects of adultery, then look no further - this is the book for you.

Your Marriage Can Be Restored. A treasure book filled with effective guidance for your marriage from forgiveness and trust to recommitting your lives to each other again. Practical and easy-to-read, this book combines the solutions and remedies your marriage needs towards recovery. This book will give you the guidance you need to discover the true secrets to a happy, lifelong marriage.

You Can Heal The Wounds - Your marriage deserves to have the best possible care. God is that care. Make your marriage important to you. A treasury of great information you can't live without if you want to remain happily married.

Buy from Amazon online


Buy From Lulu



Angie's Marriage Column ~
February 23, 2011

Bible Study: Healing From Adultery

Ask Angie: Presently, we are recovering from the consequences of adultery. Please pray for us! We need information on a Bible study that we can do together for a married couple recovering from adultery. Thank you so much.

Marriage Guidance: We're always glad when people write in to tell us they are working on restoring their marriage and healing from the affects of adultery because it is another marriage saved and two more lives that are committing themselves to God and to each other. All marriages can be restored once we restore our own lives to God.

Bible Study – Adultery

Ye have heard that it was said by them of old time, Thou shalt not commit adultery:

But I say unto you, That whosoever looketh on a woman to lust after her hath committed adultery with her already in his heart. (Matthew 5:27-28)

Jesus came to fulfill the Old Testament laws, not abolish them. Simply telling someone to not commit adultery is preaching to the choir. We all know that adultery is a sin and yet we still commit adultery. Jesus went a step further then just telling us to not commit adultery; He taught that to desire a woman (or a man) in a lustful way is wrong and is considered mental adultery. The problem lies within our belief system.

What we "do" is a symptom of "how" with think

Jesus said that even the desire to have sex with someone other than our spouse is mental and emotional adultery. Therefore, if lustful desires are in our thoughts, then they most likely will come out in our actions! Jesus cares about who we are on the inside and wants us to understand how to bring pure thoughts into our mind. "For where you treasure is, there your heart will be also." Luke 12:34

Jesus cares a lot about our heart and mind because it is through these avenues that we carve out our value, morals, and beliefs. Jesus went a step further in many of the OT commands. For an example instead of simply teaching, "Don't kill" Jesus taught "Do not have anger in your heart toward your brother." You see, it has to do with more than the command itself. Those who have anger in their heart toward their brother may end up killing him; look at Cain and Abel. Cain killed his brother out of anger.

Ye have heard that it was said by them of old time, Thou shalt not kill; and whosoever shall kill shall be in danger of the judgment.

But I say unto you, That whosoever is angry with his brother without a cause shall be in danger of the judgment. (Matthew 5:21-22)

Is Jesus telling us that we should never be angry? How can we never be angry? No, it would be impossible to never be angry with someone, but just like we need to control our sexual desires we must control our anger. And we do that through Jesus Christ and His teachings on forgiveness. If we hold up envy and resentment toward our brother or our neighbor we will act out aggressively and in ungodly ways.

In the same way if we continue preoccupy our mind with impure thoughts, ideas and considerations we will act out in immoral ways!! Does that mean we will never have a lust thought ever again. No, that would be impossible because we are not yet made perfect in Christ, we still have the flesh to deal with until our bodies die, but it does mean that we have Jesus Christ within us to help us when we are tempted. This I say then, Walk in the Spirit, and ye shall not fulfill the lust of the flesh. (Galatians 5:16)

Understanding the Difference Between Lust and Appreciation and Respect

Is it wrong to look at the opposite sex and think, "hey she is pretty"? Or is it wrong to look at a man and think, "He is handsome?" Of course it is not wrong. But it is wrong to look at a woman and think about having sex with her or to look at a man and wonder what he looks like with no clothes on. It is perfectly fine to appreciate beauty when you see it. Just like it is okay to have anger, but to control that anger with forgiveness; and to control our sexual/lust desires with respect and love. If we are NOT controlling our desires and our emotions then we are not walking in Christian love.

We Must Allow God To Change Us!

Because many of us have been raised in ignorance, myself included, it takes falling a time or two before we get it. Unfortunately, some of us never get it. We think we have all the answers and we think we can lead our lives under our own wisdom; under our own power; but the fact is, we are not our own once we become a Christ One. We belong to Christ! The Holy Spirit is our guide for righteous Christian living. I mean, you can live under your own understanding if you want, but you are not a Christ One if you do.

For ye are bought with a price; therefore glorify God in your body, and in your spirit, which are God's. (1 Corinthians 6:20)

It starts with growing up and never being taught about the right way to forge relationships. Most young men grow up believing it is ok to have sex with every gal they date. They think it is ok to look at pornography and so on and so forth. Then they grow up and get married with these kinds of beliefs and the consequences spell disaster for their personal life, and for those they are supposed to be loving, and with their relationship with God.

God Wants Us To Submit Our Will To Him

Submit yourselves therefore to God, Resist the devil, and he will flee from you. Draw nigh to God and he will draw nigh to you. Cleanse your hands, ye sinners; and purify your hearts, ye double minded. Humble yourselves in the sight of the Lord, and he shall lift you up. (James 4:7-8)

We have to have faith to submit our lives over to God. We have to want to give up "our ways" for God's ways". Without faith it will be impossible to please God. Because, remember our actions are influenced by our thoughts. Therefore if we are thinking of pure and holy thoughts our actions will reflect that and our lives will remain pure and holy as well. This is why when we don't have faith we cannot please God in our Christian walk. (Hebrews 11:6). This is where many people error; they lack faith to allow God to lead their lives.

He Wants Us to Follow Him

And he that taketh not his cross, and followeth after me, is not worthy of me. He that findeth his life shall lose it: and he that loseth his life for my sake shall fine it. (Matthew 10:38-39)

Where does your life belong? To whom do you live for? Is your life with the world and its pleasures? Or is your life with Christ. You see if we think we have found our life, full of its selfish pleasures than our spirit is dead, without Christ. But for those who give up this self-seeking lifestyle and follow Christ then His Spirit lives in us and helps us to live righteous lives in this present day.

And they that are Christ's have crucified the flesh with the affections and lusts. If we live in the Spirit, let us also walk in the Spirit. (Galatians 5:24-25)

He Asks Us To Be Like Him

As obedient children, not fashioning yourselves to the former lusts in your ignorance: But as he which hath called you is holy, so be holy in all manner of conversation. Because it is written, Be ye holy; for I am holy. (1 Peter 1:14,16)

There are Christian people who are still fashioning themselves to their own lustful thoughts and beliefs because they are not allowing God to lead them away from these things. They have put their faith into the things of the world and are so deceived they do not understand that what they are doing and how they are living is even in error.

How that they told you there should be mockers in the last time, Who should walk after their own ungodly lusts. These by they who separate themselves, sensual, having not the Spirit. But ye beloved building up yourselves on your most holy faith, praying in the Holy Ghost. Keep yourselves in the love of God, looking for the mercy of the Lord Jesus Christ unto eternal life. (Jude 18-21)

He Saves Us Through Rebirth

Not by works of righteousness, which we have done, but according to his mercy he saved us, by the washing of regeneration, and renewing of the Holy Ghost; which he shed on us abundantly through Jesus Christ our Saviour. (Titus 3:5-6)

Without God we are nothing! Without God we cannot heal our soul! Without God we will commit sexual sins. We must sincerely ask God to take away our impurities and make us whole in Him! We will know we are saved and we will know when we are Christians when we are like Him, showing in our attitude the fruits of the spirit which are love, joy, peace, longsuffering, gentleness, goodness, faith, meekness, temperance; against such there is no law. (Galatians 5:22-23)

Let Love Be Without Dissimulation (Romans 12:9)

Most of you know this scripture, as "love must be sincere." Is adultery sincere? For the unmarried, is dating and having sex sincere? Is thinking about undressing a woman sincere? Acting out our lustful desires is very harmful in 5 ways
Lustful desires outside of marriage leads to adultery, emotional and physical

Lustfulness is rebelliousness to God and separates us from God

Lustfulness always hurts someone

Lustful acts leads to premarital sex

Lustfulness breaks up relationships, marriages, and family
In essence, it's in what we THINK. What we crave and lust for in life shows our values and morals. What we think in our heart and mind comes back out in our actions.
Symptoms of a Lustful Mind-set Are:
Adultery = divorce

Premarital sex = genital diseases, HIV, AIDS

Lack of sexual interest with spouse = marital problems

Separation from God = incompleteness of self

Sin = death
Christ teaches us about respect and love. Jesus has brought us guidelines that believers are to apply into their daily lives that help us deal with temptations. It works like this: We are human and we all have desires but we have principles that we NEED to instill within our attitude to control our desires.
Sexual immorality is a temptation we all must face on a daily basis. God doesn't forbid sexual sins just to be difficult. God knows its power to destroy people's lives physically and spiritually. God wants to protect us from damaging ourselves with immoral desires. Sex outside of the marriage relationship always hurts someone. It hurts God because it shows that we care more about our own lustful and selfish desires than Him.
The key to faithfulness is putting Christ's principles to work in our life and trusting in the Holy Spirit within us with our temptations. When we have temptations and ungodly thoughts we need to put our trust and faith in Jesus Christ. We have to communicate our burdens to God through prayer. Only when we put our trust in Him will He help us.
Basing Our Lives on Own Understanding and Wisdom
Do you see what happens when we lean on our own understanding when tempted with desire? We rationalize within ourselves that it's ok to think these thoughts and to have these kinds of desires. Let's take a look.
1) I can flirt with my boss, besides my husband will never find out
2) I can take my secretary out to lunch; after all it is business
3) I can take a small peak at pornography today, one time won't hurt
4) I love all the stares I get from men when I dress like this
5) I love the show desperate housewives; the women are so glamorous
6) I can go dancing with my girlfriends to a nightclub, nothing will happen
7) I can look at my co-worker in that way, no one knows my thoughts
8) I can flirt with my friend's sister, my wife will never find out
9) I can have a social networking account and find old school friends
10) I can talk, text, and flirt with her because I am not doing anything wrong
11) Looking at porn is ok; I would never commit adultery
12) I can have opposite sex friendships, nothing will happen
When we rationalize that these things are ok to think and do it means we are leaning on our own understanding and wisdom for our lives rather than Godly wisdom and guidelines. Many of us do this. Even though we sit in the church pews every Sunday we leave church and lead our lives as if there is no accountability in our life. But we are all accountable to God; even unbelievers will be accountable to God one day.
The Holy Spirit Teaches Us!
But look what happens when we pray about our impure desires and sincerely ask God to help us with our temptations. This happens because we have put our faith and trust in God rather than ourselves. The scenarios below are the same as above but with a new attitude and perspective.
Basing Our Lives On Godly Wisdom and Understanding
1) My boss is flirting with me I better quit this job
2) I don't think taking my secretary out to lunch is a good idea
3) I can never look at pornography because it hurts me, hurts my wife, and separates me from God
4. I will never dress in a way that does not please God; that means I will not have to worry about all those stares from men
5) I feel sorry for those women and men who watch shows like desperate housewives; they are becoming brainwashed
6) Going out to a nightclub with my friends is a bad idea; why put myself in such tempting surroundings?
7) I need to respect women and look at them as if they were my own sisters
8) Flirting is wrong and leads to lustful thinking and adultery.
9) My wife and I have shared passwords to all online activities. We are accountable to each other
10) My wife and I trade cell phones often and on the spur of the moment. Accountability and trust is important to us in our marriage
11) Looking at porn is adultery!
12) My husband and I have friendships with like-minded couples for Christ centered activities and fellowship
Wow!! This is how God transforms our hearts and minds because of our faith in Him! We are literally transformed in our way of "looking" at life. We see situations not from the inside but from the outside looking in. We are not enslaved by the world any longer!!! Jesus Christ frees us from the worldly and selfish desires that enslave us and separate us from Him.
And be not conformed to this world: but be transformed by the renewing of your mind, that ye may prove what is that good, and acceptable, and perfect will of God!
Romans 12:2
Many people believe they have the right to do whatever they want with their own bodies. And they think this is freedom, but really, they are enslaved to their own lustful and sinful desires – they are in bondage and slave to their desires. This is not how we are to live our lives.
Sexual Desires Must Be Placed Under God's Control
It is God's will that we put our faith and trust in Him and give our sexual desires over to Him and He will help us in our temptations. God created sex for procreation and for intimate and sexual pleasure between husband and wife in marriage. When we realize that God wants us to be sanctified and avoid sexual relations outside of marriage, it is easier for us to just say no and run from temptation. By understanding the Holy Spirit works in us to make us holy and pure, conforming us into the very image of Christ himself, we find it much easier to walk a life pleasing for God. Our bodies belong to God as well as our spirit.
"It is God's will that you should be sanctified: that you should avoid sexual immorality; that each of you should learn to control his own body in a way that is holy and honorable, not in the passionate lust like the heathen, who do not know God; and that in this matter no one should wrong his brother or take advantage of him. (1 Thessalonians 4:3-6)
The bottom line is God wants us to glorify Him with our relationships and to love our neighbor. That means we must know Him, love Him, worship Him, and imitate Him. As a result we will ultimately fulfill our intended Christ-centered purpose for our relationships and loving others.
Love vs. Lust
Remember, society has a superficial and selfish view of love, which has contaminated our understanding of what REAL LOVE is. Christian culture believes that love is something that makes us FEEL good and that it's acceptable to sacrifice moral principles to obtain such love. But in doing so this culture IS NOT obtaining the love characteristics but the lustful ones.
LOVE is kind = considerate, caring, giving, thoughtful, understanding
Lust is envy = jealous, greed, spite, resentment,
LOVE is not proud = humble, submissive, meek, modest
Lust is self-seeking = selfish, rebellious, rude, egotistical, hateful,
LOVE rejoices in the truth = God is love, Love is God = Wisdom, Holy Spirit,
Lust delights in evil = Satan, sin, wicked, iniquitous, immoral, and dishonest
But the fruit of the Spirit is love, joy, peace, kindness, goodness, faithfulness, gentleness and self-control. Against such things there is no law. (Galatians 5:22)
Heaven Ministries Copyright © 2002 - 2011
Trust and Accountability in Marriage
After Adultery

Marriage Guidance For Adulterer
Religion Keeps Us Slaves To Sin But Love Free Us!
You Are Responsible For Your Spiritual Health
The Grass Is NOT Greener on the Other Side
Marriage Guidance For Adultery: Infidelity is a big problem in marriages that have NOT put God first in the marriage. And it is not just infidelity that is a problem, as you can see from the above issues, but with it come unforgiveness, jealousy, resentment, mistrust, and suspicion, etc. These issues are symptoms of infidelity.
Most of these feelings are normal to have after learning a spouse has had an affair, or if you are the one who had the affair. But after a time, and if the spouse has repented of their sins, you must learn to give up these heavy-laden emotions. You have to change yourselves too, not just the spouse who committed adultery.
How do we change ourselves? Well, we need to put God first in our personal lives and then in our marriage by repenting of our sins and becoming "new people" in the love of Jesus Christ. We must learn to forgive our repentant spouse and become "new people" in Jesus Christ. Both of these take biblical steps to accomplish. If we keep walking on our own path we won't accomplish these steps towards forgiveness and love.
In all your ways acknowledge Him, and he will make your paths straight. Proverbs 3:6
Our own path, without God is not based on love but on selfishness, revenge, lying, cheating, coveting, stealing, immorality and all kinds of selfish thoughts and ideas. This path leads us further and further away from God and God's love for us. I was on that path at one time in my life. I know what its all about. I'm showing you how to get off that path.
"Do not be afraid little flock, for your Father has been pleased to give you the Kingdom." Luke 12:32
Let's discuss the issue of infidelity for a moment. It is usually after a spouse has been caught in their infidelity that they want to repent and work on the marriage. This tells us that this person is not really ready to start working on the marriage. What they really need is to work on healing themselves and their relationship with the Lord. Marriage restoration really needs to be put on hold until they have gotten their heart straight with God. Let me explain.
"For where your treasure is, there your heart will be also". Luke 12:34
We Must Be Transformed

We can all repent of our sins and say we are going to turn our life around, but unless the willingness to do that is there, all of these things are for show and tell. Unless the willingness is there we will commit adultery again and again. As long as the intent to commit adultery is there, it will be done. This is why Christ says that to even look on a woman lustfully is to have already committed adultery.

Our life is based on INTENT and ATTITUDE. If our intent and attitude are not with God then where are they? Where is your purpose headed?

If our heart is still on that path that leads away from God then everything we say and do will be in vain. But…when we move our heart away from the path that leads to worldly things we begin to see more clearly at what we are supposed to be doing with our lives. We understand it is not our own will that must be done but the will God.

Do not merely listen to the word, and so deceive yourselves. Do what it says. Anyone who listens to the word but does not do what it says is like a man who looks at his face in the mirror and, after looking at himself, goes away and immediately forgets what he looks like. But the man who looks intently into the perfect law that gives freedom, and continues to do this, not forgetting what he has heard, but doing it – he will be blessed in what he does. James 1:22-25

We must change our heart and mind – only Jesus can do that. We can't change our heart and mind no matter how many times we mouth it out loud in church or to others. We have to allow Jesus to change our heart and mind by surrounding our lives over to Him. If we keep holding on tight to this world and what this world has to offer we won't really have the chance to get to know Jesus and what He has to offer.

We have to allow ourselves to be transformed. If there is one thing I would tell people who have had affairs it would be to trust in Jesus Christ. When we trust in the world we become just like the world, and we do the things of the world. If we decide to trust in Christ we can give up our past. God has given us a chance to go to Him with our past. That means we have a chance to become brand new people!

Do not conform any longer to the pattern of this world, but be transformed by the renewing of your mind. (Romans 12:2)

Why would someone go out of their way to cheat on the person they are married to and have an affair? The answer to this question has nothing to do with the person you married to. The answer to this question has to do with YOU. Why would you have an affair? Once you figure that out, you'll know what you need to do. Most people never really get to the bottom of "why they had an affair" because they are too wrapped up in blaming their spouse for their problems, and because they like playing the blame game. They feel guilty and now need to blame someone else for their indiscretions. They have unresolved issues within themselves that have never healed. A person with unresolved issues is like an unhappy person with character flaws.

Flaws in our character do not mend by themselves. Sleeping around, drinking ourselves to oblivion, drugging up, and using other's sexually will not make us feel better about the person we are. Our flaws are here to stay until we stand up and take responsibility for our actions. Only when we take responsibility for our actions will we see our own flaws. Stop blaming others for your unhappiness and misery and take steps to be in control of your life and be a responsible person. Be responsible for your part in the marriage! And allow your spouse to be responsible for their part without you trying to take responsibility. To fill up your emptiness takes something spiritual – a spiritual renewal of heart and mind. There is only one relationship that gives us the fulfillment and wholeness we need and have been searching for. That is our relationship with the Lord.

What causes fights and quarrels among you? Don't they come from your desires that battle within you? You want something but don't get it. James 4:1

You quarrel and fight. You do not have because you do not ask God. When you ask, you do not receive because you ask with wrong motives, that you may spend what you get on your pleasures. You adulterous people, don't you know that friendship with the world is hatred toward God? Anyone who chooses to be a friend of the world becomes and enemy of God.

James 4:2-4

On a personal note, I just want to tell each and everyone of you who wrote in, understand that the issue of infidelity is only a symptom of something even greater - most likely the lack of God in ones life. If we do not find our purpose with God and learn to love in the proper ways, our marriages will continue to experience symptoms such as infidelity and nothing will change. Please read the article resources at the end of this marriage column – print them out and read them together with your spouse. Follow the principles and let God take back your marriage. Your marriage can be restored!

Because we have written so much for those who are wounded from adultery, we've decided to do something a little bit different and counsel the adulterer. We believe the adulterer is hurting themselves more than the people they have betrayed. They too are suffering and need God's love healing. If you know of anyone who could use some encouragement in this area of their lives, why not send it to them?

We all know about the commandment to not commit adultery but obviously we have not taken it very seriously. Why is that? Why are Christians committing adultery? It is because they are dispassionate Christians who have not learned, nor have been taught to have a personal relationship with Jesus Christ and that Christianity is a lifestyle. They do not know that the Kingdom of God is already here!

Adultery is being a slave to sin.

Adultery is acting upon our negative emotions and being a slave to sin. "The acts of the sinful nature are obvious: sexual immorality, impurity and debauchery, idolatry and witchcraft; hatred, discord, jealousy, fits of rage, selfish ambition, dissensions, factions, and envy; drunkenness, orgies, and the like. I warn you, as I did before, that those who live like this will not inherit the kingdom of God. (Galatians 5:19-21)

The kingdom of God is not a place or building but a presence within your heart and mind.

Once having being asked by the Pharisees when the Kingdom of God would come, Jesus replied "The kingdom of God does not come with your careful observation, nor will people say, 'Here it is' or 'There it is", because the KINGDOM of GOD is within you". (Luke 17:20)

"…I tell you the truth, no one can see the kingdom of God unless they be born again" (John 3:3)

Christians Need to Get Back to the Teachings of
Jesus Christ

Being a Christian is a lifestyle and way of living. People like to call Christianity a religion and that is fine, but it is more of who a person is in Christ. A Christian is a Christ One because they follow Jesus Christ. We can't see Jesus with our eyes, but we feel His presence within our heart and mind, hence "the kingdom of God"!

If people, who claim to be Christian, do not go back to the standards of biblical principle they will be overtaken by the world and its destructive ways. As Christians we have a duty to God and to others to put God FIRST IN OUR LIVES in everything we do. If and when we are tempted to go outside the bounds of our marriage we, as Christians must run away from whatever is or whoever is tempting us; pray to God for His guidance and protection.

God calls us His children because we are like children in this world. We need His protection and guidance every single day! God hears our prayers. He really does! God will keep us from being tempted more than we can bear when we put our faith in Him. "And God is faithful; he will not let you be tempted beyond what you can bear. But when you are tempted, he will also provide a way out so that you can stand up under it." (1 Corinthians 10:13) God does not lie. He lets us know what he will do for us as His faithful children.

Did you know that it is a low self worth that keeps people from God? If it were not, why do many Christians feel the need to prove something to others rather than to God? People with low value towards themselves get their egos stroked by outward appearances and selfish pleasures. "He said to them, "You are the ones who justify yourselves in the eyes of men, but God knows your hearts, what is highly valued among men is detestable in God's sight." (Luke16: 15) But those people who realize their worth in God's eyes receive their recognition love, and contentment from God through Jesus Christ.

In contrast, those who are in slavery to sin, such as adultery, find love and contentment from others rather than God. Anyone can allow their thoughts and beliefs to stray from righteousness and commit adultery, but not anyone allows this to happen because they are devoted to God and committed to honor their marriage to God. They have discovered through trial and error mostly, that they don't need adultery, etc to make them happy—they only need the Love of God though Jesus Christ and so can you. "Are not two sparrows sold for a penny? Yet not one of them will fall to the ground apart from the will of your Father. And even the very hairs of your head are all numbered. So don't be afraid; you are worth more than many sparrows." (Matthew 10:29-31)

So tell me, how is this religion? How is God caring for and loving His children religious? And how is God's children loving and serving Him religious? It is not religious; it is more of a lifestyle and standard and pattern for living. Let me explain.

A sincere believer of Jesus Christ does not remain stagnant in their faith and growth process. They continue to grow, learn and persevere in all of God's ways, even through suffering! "But we also rejoice in our sufferings, because we know that suffering produces perseverance, perseverance character, and character, hope. And hope does not disappoint us, because God has poured out His love into our hearts by the Holy Spirit (kingdom of God), whom he has given us. (Romans 5:3-5)

When we run from temptation and use the knowledge that God has laid out for us in His Word we develop our Christ like character to be more like Him! We begin to put our faith, trust and hope in God and our personal relationship with Him ultimately creates value within us—we value who we are in God through Jesus Christ!

Don't let the world deceive you and take your life away from the One who created you? A Christ One never stops learning and growing in Christ-like character—it is the Christian lifestyle and is never-ending. When you wake up in the morning, on any given day, you are a Christian because your lifestyle throughout the day revolves around pleasing God through your service to Him, whatever that may be. It could be being a good wife and mother or it may be volunteering your services to those in need.

We have to get outside of ourselves and stop focusing on our needs and wants and start focusing on the needs of others--because doing this makes us feel better!!

On the flip side of the coin, if you only read the bible once a week, and if you only worship Christ when you go to church and if you only pray when you go to church then your Christianity is a religion. Anytime we do something to prove our worth to others, Christianity becomes a laughing stock and a religion. But when we bring the teachings of Jesus Christ alive in our every day life it becomes our lifestyle and way of living.

"But seek first his kingdom

and his righteousness, and all these things shall be given to you as well." (Matthew 6:33) Sincere Christians have chosen to follow Christ's principles for their marriage and so can you by giving up your perception of what you think Christianity is and should be. We are taught to first seek his kingdom and then God will provide us with everything we need

Christianity Is Not A Religion But A Standard
For Godly Kingdom Living

(How Religion Keeps Us Slaves To Sin)

Christianity is not a religion but standard for Godly kingdom living that has been lovingly shown to us by our Savior Jesus Christ. Understand that God values each and everyone of us the same, from all walks of life, God does not love the one who is not a slave to sin any more than the sinner. Your value and self worth no matter what your past is like or what you have done is found in God through Jesus Christ, and not the world! "For we are God's workmanship, created in Christ Jesus to do good works, which God prepared in advance for us to do." (Ephesians 2:10)

"The time has come," he said. "The kingdom of God is near. Repent and believe the good news!" (Mark 1:15)

Some wives have told me (it is never the other way around) that their husbands will not go to church with them because they "see" the hypocrisy that goes on. If church is just a religious event, how is this helping a person to have a personal relationship with Jesus Christ? If we just go through the religious motions and are not taught to develop our character to be like Christ then what is the application in going to church? When a wife goes to church and the husband will not, it can create division within the marriage because wives can often become self-righteous with their husbands, which make husbands feel demeaned by their wives. The solution is to find a church that you are both happy with, or start a home church/bible study group in your home.

A church building should be a place that worships Jesus Christ as the head and a place to find solace from suffering and receive God's truth for healing. But when we look at the Christian culture of today, we do not see very much healing going on. We can sure talk a good talk but when we study the end product and see how it has gone way out in left field according to Christ's standards, patterns, and principles for living, we see that the majority of Christians have only found a religion. Is it the churches they are going to? What else could it be?

Mathew 23:13 Woe to you, teachers of the law and Pharisees, you hypocrites! You shut the kingdom of heaven in men's faces. You yourselves do not enter, nor will you let those enter who are trying to.

A church building should be a place that actively promotes God's standards and principles for living through having a personal and forever growing relationship with God through Jesus Christ. But as long as people are only finding a religion, and many people are shunning churches because of that, we will continue to feel something is missing in our life that we can only get through proving ourselves to others. We do this through our careers, status, money, clothes, houses, cars and praise and recognition from people. This is being a slave to your own selfish ways and pride, both of which are just as much sins as adultery in God's eyes.

But if we separate ourselves from these things that the world is so concerned with (2 Corinthians 6:17) and go pray in private and repent (Matthew 3:2), asking God to forgive us our sins, and if we are sincere in searching and believe that God can and will help us in our weakness we will find our self-worth through God's magnificent love for us. If we don't know who to ask when we are in need of help and if we are praying to the wind, how can God help us in our sufferings? God helps us when we are tempted and through our temptations, trials and sufferings, our character and spiritual resolve grow in Jesus Christ and we find the love and contentment we have so badly needed. Religion keeps us a slave to sin but Jesus Christ' love frees us from sin.

"I pray that out of his glorious riches he may strengthen you with power through his Spirit in your inner being, so that Christ may dwell in your hearts through faith. And I pray that you, rooted and established in love, may have power, together with all the saints, to grasp how wide and long and high and deep is the love of Christ, and to know this love that surpasses all knowledge—that you may be filled to the measure of all the fullness of God."

(Ephesians 3:16-19)
You Are Responsible For our Spiritual Health
Let me ask you a question? Who do you think is responsible for your health? Is it doctors, the food manufacturers, who? If I get up every single morning and feed my body with soda drinks, cupcakes, and donuts. Then eat potatoes chips and more soda pop for dinner and do that every day until I become sick with disease, would it be my fault for getting sick or should I blame it on the food manufacturers and doctors?

Why would I put my health in the hands of people who really don't care if I died yesterday? I am responsible for my own health in every way. And to trust in doctors for my overall health would be ridiculous. Now if I broke a bone or needed a blood transfusion, I would certainly run to the nearest doctor, but should I go to the doctor because I now have IBS and colon issues from eating badly for twenty years! NO WAY!

Actually because I know that eating bad for so many years causes colon cancer I wouldn't eat like that in the first place… because I know that I am responsible for my health. No one else is responsible for my health, spiritually or physically!!

In the same way, we are responsible for our own spiritual health. As long as we are alive in these mortal bodies we are on a learning/growth spiritual journey with God. The journey doesn't stop just because we may think we're saved, or because we think we have learned everything about God, and we're going to heaven. On the contrary, our journey is a never-ending spiritual travel with God. There is always something to do and learn in Christ. It doesn't end, it just gets better and better.

We can't take our eyes off of Jesus—not for a minute. Christ's Spirit is within the Christian and the Christian becomes THE CHURCH. A Christian (a person walking in the Lord) has the power of the Holy Spirit within him or her and they live by the will of Christ's Spirit within them.

…Live by the Spirit, and you will not gratify the desires of the sinful nature. For the sinful nature desires what is contrary to the Spirit, and the Spirit what is contrary to the sinful nature. (Galatians 5:16-17)

When a person is truly walking in the Lord it would be very difficult for them to just turn their life away from all the blessings and walk with the world. This leads me to believe that you only thought you were walking with Christ. The blessings of being a Christ One are peace and contentment. Peaceful and content filled people have no reason for veering off the road with Jesus and getting on a road that is full of immorality, hate, violence, strife and deception. That doesn't make any sense.

Not that everything in a Christ followers life is a bed of roses 24/7, because even Christ followers have problems and trials in this life, but a follower of Christ prays about his trials and problems, and waits on the Lord for guidance and confirmation on what to do and how to handle his or her affairs in the Lord. And you can do that too

.

Are you of the world or just passing through the world—there is a big difference here. Only God can change us—we can't change ourselves. God changes us through the death of His Son—that's the only way! People have to be willing to allow God to go to work in their life and then God will do the rest. God is at the helm but you are rowing the boat to where God wants it to go.

Our fathers disciplined us for a little while as they thought best: but God disciplines us for our good, that we may share in his holiness. No discipline seems pleasant at the time, but painful. Later on, however, it produces a harvest of righteousness and peace for those who have been trained by it. (Hebrews 12:10-11)
The Grass Is Not Greener On The Other
Side of the Fence
If we sin against our marriage because we want to have fun and we think the grass looks greener over there on the other side of the fence, we're only hurting ourselves – we're hurting our spirituality and relationship with our Creator/Savior. The reality is the grass only LOOKS greener for only a short moment in time… but soon it looks drab and yellow and we wish we had never strayed over to that grass in the first place.
The biggest mistake couples make in their marriage is to allow their worldly feelings to control their actions and behavior. We have to test our feelings FIRST before we jump the gun and do something we will regret later. We test our feelings by TRUSTING in God with our feelings. That is why we pray! We pray to talk to God. We pray for assurance, encouragement, and guidance. We pray when we are tempted. We pray for others when they are hurting. Your prayers to God are what make your relationship with Him grow! Try it and see for yourself. Are you trusting in God with your feelings? Or are you giving your feelings away to the world?
We have lust feelings to begin with because our mind and attitude are not on Christ but on the world. We lust after what does not belong to us and become selfish and greedy over things in the world because our attitude is meshed within these things of the world. The more we remain distant from Jesus the more we will continue to live in lustful, greedy, and selfish ways.
So I say, live by the Spirit (Jesus Christ – Holy Spirit), and you will not gratify the desires of the sinful nature. For the sinful nature desires what is contrary to the Spirit, and the Spirit what is contrary to the sinful nature. They are in conflict with each other, so that you do not do what you want. (Galatians 5:16-17)
If you are willing to be accountable for your actions then you must go to your Maker and ask for forgiveness and turn away from your life of sin, and become a NEW man or woman in the Lord. Talk to your spouse about your needs. Don't hold things inside where they fester and cause more damage to your soul. Communicate your needs instead of allowing your needs to become sinful. Lust feelings come and go like the rising and setting of the sun. What we think about on a continual basis becomes our actions. Don't let your thoughts wonder from what is good and right.
Do you not know that your body is the temple of the Holy Spirit, who is in you, whom you have received from God? You are not your own; you were bought at a price, (Jesus' death was the price) therefore honor God with your body. (1 Corinthians 6:19, 20 NIV)
For mending trust issues and forgiveness from your spouse see our books Adultery Pandemic and the eBook How to Forgive and Love a Cheating Spouse.